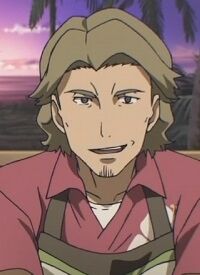 Hiroshi Nakaizumi (中泉 浩 Nakaizumi Hiroshi) is the father of Youko Nakaizumi and the uncle of Madoka Kyouno who owns the 'Be With Hiroshi' (BWH) restaurant where Madoka lives. In Season 2, he opened a beach cafe which did much better than his restaurant ever did since Le Garite reveal themselves to the public.
Etymology
The name Hiroshi means "prosperous" (浩).
Hiroshi's surname Nakaizumi means "middle" (中) (naka) and "spring, fountain" (泉) (izumi).
Gallery